Product name: 4-Channel Adjustable Frequency Cloning Remote Control Duplicator
Details:
Product NO.: NT-CR01A
4-Channel Cloning / Duplicator Remote Control Keyfob.
This is a multi-channel remote control duplicator that can
copy / clone up to 4 channel fixed code remote signals.
Easy duplication of :
Car alarm remotes.
Motorbike alarm remotes.
Housealarm remotes.
Garage / shed alarm remotes.
Vehicle central locking system remotes.
Electric garage door remotes.
Electric gate remotes.
Home automation device remotes - ie. Remote sockets,
Lights etc.
Features / Specifications :
Operating voltage: DC12V
Operating current: 10MA
Operating fixed frequency: 280MHz-450MHz
Weight: 0.03kg
Item Size: 6cm x 3cm x 2cm
Operating distance: Up to 100 meters
This item is not suitable for cloning rolling code
remotes.
Programming Instructions :
1. Simultaneously press the two top buttons on the clone remote until the blue LED flashes. This
clears the clone remotes memory ready for programming (this
procedure takes approximately 10 seconds).
2. Hold the original and the clone remote close to each other.
3. Simultaneously press a button on your original remote and one of the buttons on the clone remote and hold until the LED on the clone remote flashes steadily.
4. Programming is now complete. Repeat steps 2 > 4 to program more buttons.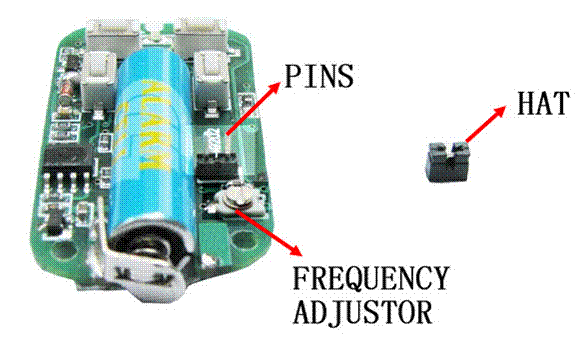 5. Put on the hat on the pins, the frequency range is 280-350MHZ.
Put off the hat, the frequency range is 350-450MHZ.
Use a Frequency-adjust non-metal pen to adjust frequency
to get the exact frequency you need.
When you adjust the frequency, you need a frequency scanner to
check the adjusted frequency to make sure the frequency of our
remote duplicator same as your original remote control.

Important notice:
Please check your existing remote to see if it uses the fixed frequency (not the rolling code type) - If it does then this clone device will be able to duplicate it.
How to Adjust the frequency: