Product name: Motor Forward And Reverse Remote Control Switch
Details:
This kind product is one of wireless remote controller which work with low directly current, pressing button "UP STOP DOWN" which on remote control to make motor forwards,stop,reverse.when motor runs the right position, it will trigger limited switch and stop immdedicately,it widely be used in controling curtain,electronically gate/window etc.

Technology datas:
1.Model No.: NT-MS02
2.Name:Remote curtain controller
3.Operating voltage:DC12V
4.Quiescent current:3-5mA
5.Rated power:60W
5.Operating frequency:315-433MHz
6.Receiving sensitivity:-95dBm
7.Encoding mode:Auto code learning - Learning Code
8.Size:74*54*28mm(including case)

Wiring Program: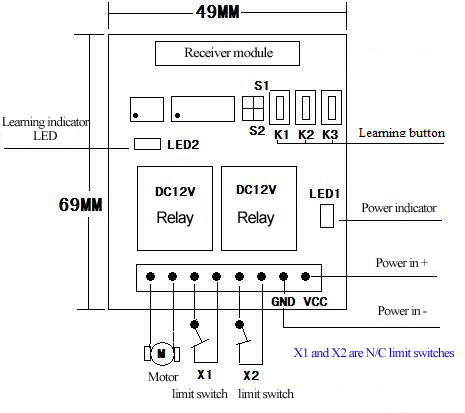 Operation:
How to add / delete remote controls
1. Hold the button on the board, when LED indicator right start flashing, press the forward key of remote control as same time until it off, press forward key again and if LED indicator of remote control on, it shows successfully and repeat above procedure to copy reverse and stop.
2. If need add more remote controls, only repeat step 1 is ok and 20pcs at most.
3. If need delete remote controls, hold the learning button of main board more than 3 seconds until LED indicator from flashing to extinguish, then release finger, press any button of remote control, if LED indicator of remote control is still off, it show successfully.
4. This product can learn this encoding code: PT2262, PT2260, EV1527, PT2240 etc.

Attention
The right operation step must be Forward-stop-reverse
Please don't try as Reverse-Forward or Forward-Reverse directly.